what is dark trance?
Powerful. Sophisticated. Intelligent structure to engage the mind, and pumping basslines to move the feet. This is dark trance, an emerging genre being pioneered by DJ Adam Wiggins.

At the close of the millennium, the genre of "trance" was awash in cheesey, feel-good tracks pandering to the mass market. Former trance DJs had little choice but to turn to boring, low-key progressive which lacked energy on the dancefloor.

Meanwhile, an underground musical style known as Goa was developing toward the structure and powerful sounds of traditional trance. In 2003 this musical style, now called Psychedelic Trance (or Psytrance), burst onto the dance scene worldwide. Dancers were reinvigorated by the pulsing basslines, ultra high-fidelilty sound made possible by advances in digital music technology, and fast tempos.

Adam Wiggins brings these psychedelic sounds to Los Angeles, where the psytrance scene is still underground, in his own unique blend he calls Dark Trance.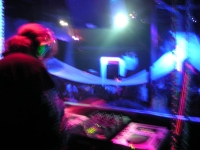 Adam @ Heavy Rotation, 2004
delivering both mixes and original music
Adam gained a reputation for flawless mixes and impeccable track selection early on through his residency at the famed LA underground hotspot, the Batcave. With four club residencies including the venerable Club Insomnia, he is a well-known sight at underground dance parties in southern California.

In 2001, he launched a production career under the artist name Xyr. Xyr's releases are redefining underground dance music with the sleek, sophisticated sounds of dark trance.